With Covid restrictions killing our travel plans we're spending more time investigating our own back garden.  Turns out there's no need to head to Biarritz or Bali for the best surf – the UK coastline has plenty of great waves and we know exactly where to catch them.  Here we share our top 5 spots in the UK.
1. Croyde Beach, Devon
Croyde is a 'surfing mecca'. Well known as one of the UK's best beach breaks, it has become a regular retreat for sunbathers and surfers alike which means avoiding school holidays is a must - but if you are able to sneak off work and get down there during the week, especially during the winter months, you can be rewarded with the surf session of your life.
As the tide drains out, thumping, low-tide barrels present themselves on the right peak but it's important to approach these with care as the water can be pretty shallow in spots. Croyde becomes more beginner-friendly as the tide fills in but this also has the effect of condensing the crowds into a bottleneck of surfboards and bodies which can be tricky. 
Picture: Matthew Lavis
 2. Pease Bay, Scotland
Pease Bay is an area with a growing reputation among surfers. Fierce tides, stunning scenery and laid-back vibes make East Lothian a hot spot for surf bums. 
Located in the Scottish Borders, this area offers some dynamite reef for pros and a decent beach break for all skill levels. Like any great surf spot, when the weather gods seem in a good mood, the waves cry out for some hardcore surf action. On some days you can expect to find 60mph winds and 40ft waves, so beginners should pick their time wisely.
Picture: Martin Burns
3. Sennen Cove, Cornwall 
Sandwiched between Land's End and Cape Cornwall, this 2.5km stretch of golden sand is popular among surfers of all abilities. Visit on a blue-sky day and you'll catch huge, hollow rollers spinning into the coast. The south end of the beach, where the waves are always smaller and more user-friendly, is perfect for beginners.
After a session, take time to check out about Sennen Cove's harbour which is speckled with art galleries and pocket-sized cafés. 
Picture: Adam Barnes
4. Whitesands, Wales
Whitesands is a west facing sandy beach with fairly consistent surf that works best with solid swells and easterly winds. This is a busy beach and gets pretty crowded in the summer which can lead to conflict with other beach users, although there are non-swimming zones in operation. The beach often has strong currents to the northern end with a fast powerful wave that gets up to 10ft - so we would say a better spot for intermediate to experienced surfers. 
A huge car park right beside the beach can easily accommodate surfer's board topped cars and vans. There are public toilets, a beach cafe/shop and direct access onto the Pembrokeshire Coast Path.
Picture: Brian Davies
5. Fistral Beach, Cornwall
Fistral beach is a straight, sandy beach backed by dunes almost a kilometre long facing onto the Atlantic. This west facing direction like many Cornish surfing beaches exposes Fistral to large Atlantic swells that provide consistent waves throughout the year. 
At the northern end of Fistral in front of Towan head is the Cribbar, Cornwall's legendary big wave spot. Unlike many potential big wave spots around the coast, the Cribbar has been surfed, and at over 20ft. Only a handful of surfers have braved the monster that is the Cribbar. The first were Jack Lydgate and visiting Aussie surfers Johnny McIlroy and Pete Russell back in 1966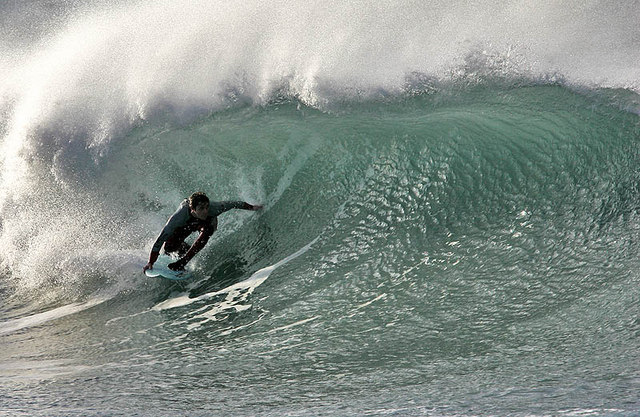 Picture: Geoff Tydeman
1 Response
Leave a comment
Comments will be approved before showing up.