The nights are drawing in, the leaves are falling and Christmas songs are starting to play in the stores.  For some the magical season has begun, but for others there's only one thing to do: fly away, somewhere hot and sunny, somewhere with beautiful beaches and smiling people, exotic scents and music in the air.

To help point you in the right direction, we've picked our top five favourite winter sun destinations that will happily see you through November to the end of March (and possibly even April). 
1. Santa Teresa, Costa Rica
Sitting on the western edge of the Nicoya Peninsula, Santa Teresa is a tiny beach village that draws in a lot of surfers and beach bodies. 
Santa Teresa didn't even have electricity until the mid-1990s but in the last 10 years has blossomed from a rural coastal village to a thriving beach town, attracting visitors from all over the world seeking the ultimate surf, sun and relaxing beach vacation. With stunning white sand beaches, reliable surfing waves and a laid back vibe, visitors become so enamoured with Santa Teresa that many stay and never leave or build their dream vacation home in the hills (we certainly wanted to).
Where to stay
Latitude 10  - bursting with boho Balinese beach huts, Latitude 10 is right on the beach and the ultimate barefoot luxury retreat.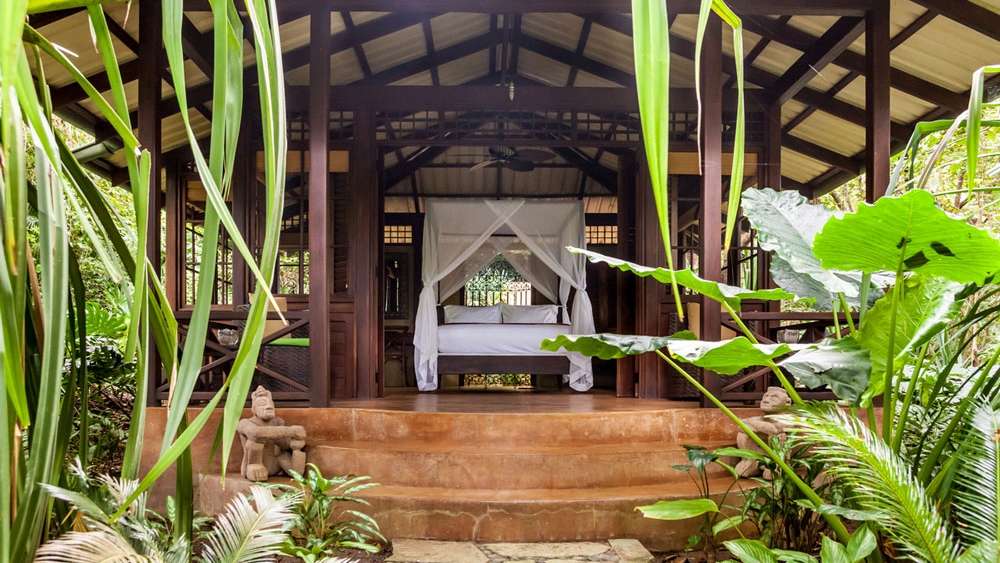 Where to eat
Koji's Restaurant - the best Japanese in town.
What to do 
Surf!  A visit to Montezuma waterfalls which is a short drive away is also highly recommended.
2. Bahia, Brazil 
On Brazil's Atlantic seaboard, far from the tourist trail, Bahia has deserted beaches, rainforests full of wildlife, cocoa farms, surfers' towns and several barefoot resorts that you'll never want to leave.  Whatever you're looking for you're likely to find it - from candy-coloured colonial towns, chic resorts and beach bars where Hollywood stars and Brazilian models sip from coconuts - Bahia has it all.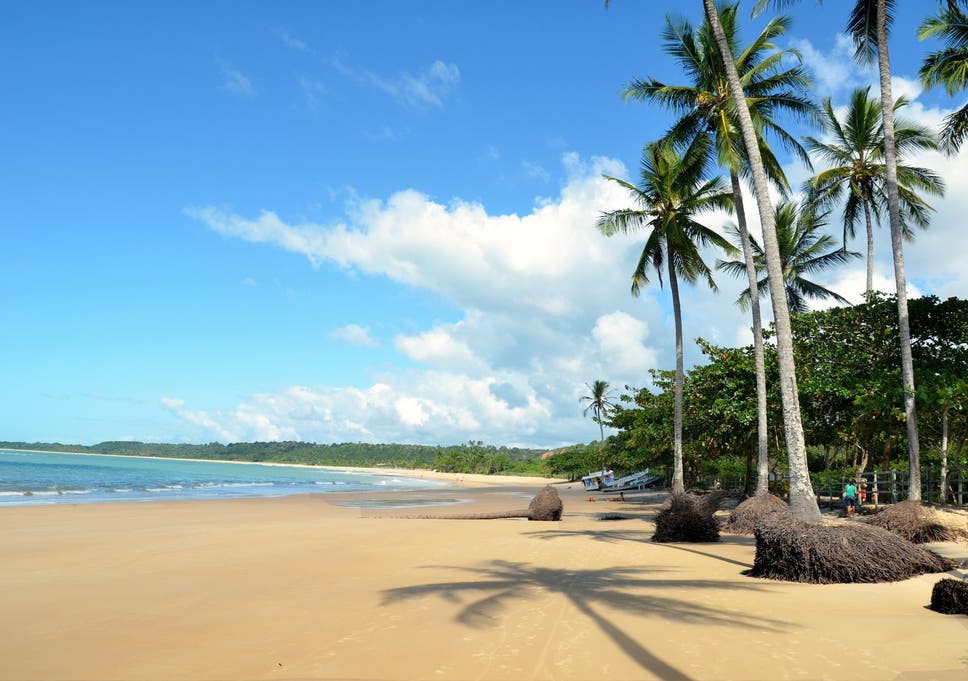 Make sure you visit Caraíva - which is only accessible by boat.  Being completely off the beaten track, power outages happen, Wi-Fi is patchy, and cell service is as minimal as the beachwear. Mule and cart are the main modes of transport — plus your own two feet — and the pace is led by the rise and fall of the sun and tides. But that's what we love about it.
Where to stay
UXUA Casa Hotel (in Trancoso) - UXUA is carved out of a collection of original multi-coloured fishermen's houses that are scattered around the main square, the hotel is inspired by the authentic craftsmanship and arts-scene that is integral to the town.
Where to eat
With locations in the quadrado and on the beach in Praia dos Coqueiros, Silvana & Cia has been a local favorite since its opening in the '80s. The moqueca—Brazilian fish stew—is one of the best in Brazil.
What to do 
Renting a beach buggy is the most fun way to explore along the coast - we rented ours from 40 Degrees
3. The British Virgin Islands 
Comprising 25 pristine islands, the British Virgin Islands (BVI) are territories of Her Majesty's land, but aside from scattered offerings of fish and chips, there's little that's overtly British. Most travellers come to hoist a jib and dawdle among the 50-plus isles. With steady trade winds, calm currents, protected bays and pirate-ship bars, this is one of the world's sailing hot spots. 
Where to stay
Quite simply: a boat. There is so much to explore around this beautiful part of the world - it's a shame to tie yourself to one area.  If you're no sailing expert - you can hire a crewed yacht too which includes a captain and chef.  We rented ours through Moorings
Where to eat
Make sure you hire some fishing equipment with your boat (most places offer this as an extra) and you can pick up some fresh fish as you sail from island to island.  We caught a Mahi Mahi which kept all 5 of us going for 3 days!
What to do 
The BVIs is home to our favourite bar in the world: the Soggy Dollar Bar.  Make sure you pay this place a visit - rebuilt after it got flattened by hurricane Irma in 2018, it's back and better than ever. Famous for their 'Painkiller' cocktails which originated and perfected back in the '70s, this rum shack is a melting pot for locals and yachtsmen alike.
4. Sri Lanka
Endless beaches, timeless ruins, welcoming people, oodles of elephants, rolling surf, cheap prices, fun trains, famous tea and flavourful food make Sri Lanka irresistible.
If you're happy to move around quite quickly, 12-15 nights will allow you to explore historic Galle and the south coast; the gorgeous green heights of Kandy and the Hill Country; the World Heritage-packed Cultural Triangle; the vibrant sprawl of Colombo, and the magnificent beaches on the Northeast coast.
Where to stay
If you visit Sri Lanka you'll want to make sure you take some time to explore the whole island, but our favourite place is naturally by the beach. The Wild Coast Tented Lodge is a remote safari camp made up of luxurious, cocoon-like lodgings among the bushland on Sri Lanka's southern coast.  We love that the entire lodge was designed to have a minimal impact on the surrounding ecosystem - they use solar power to heat water and even their food waste is used for bio gas. 
What to do
The train trip from Ella to Kandy in Sri Lanka, or the other way around, is considered to be one of the most beautiful train trips in the world. This train ride is seven hours long and takes you through stunning landscapes of green and lush tea plantations and mountain views. 
5. Bora Bora, Tahiti & French Polynesia
In both geography and spirit, just about as far from a drizzly British winter as you can get. French Polynesia is made up of 100-odd little islands in the South Pacific Ocean, the best-known of them Tahiti and Bora Bora. They are out of this world. Castaway fantasy, ringed by reefs; the water unbelievable shades of turquoise blue; the hibiscus flowers Gauguin bright; everything bright and light and hyper-real.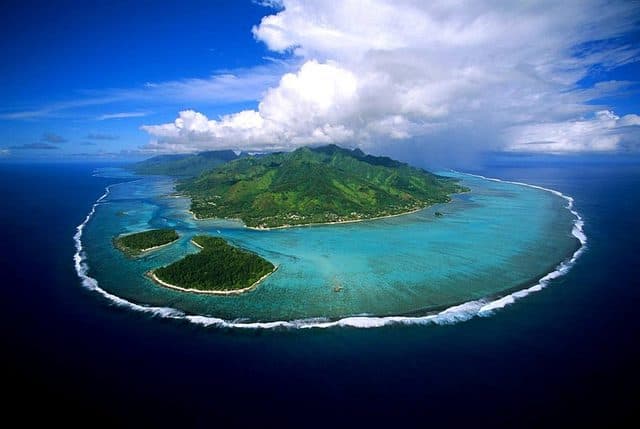 Over-the-top indulgence has become French Polynesia's – or more specifically Bora Bora's – signature, and often overshadows what the rest of the country has to offer. Resorts on the 'Pearl of the Pacific' are a honeymooner's dream, with private overwater bungalows and spectacular views of the island's iconic, square-topped peak. But if this isn't your cup of coconut water, don't let that dissuade you from visiting French Polynesia. There are plenty of small, family-run lodgings offer a closer-to-the-culture experience.
Where to stay
There may be no better way to feel the culture as a visitor than to stay at one of the many family-operated Tahitian B&B's, or 'pensions'.  Fare pea iti pension is a small intimate boutique hotel with 5 lagoon-side bungalows in North of Tahaa Island with views across the sparkling sea.
What to do 
If you're in the area, you'd be mad not to check out the surf at Teahupoo. One of the world's most famous surf breaks, Teahupoo has become important in international surf competitions which attracts the top surfers in the world.
Leave a comment
Comments will be approved before showing up.